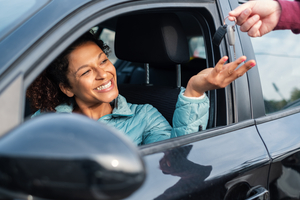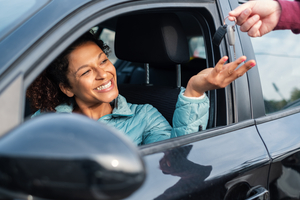 Your friend flew in from out of town for a visit. During their stay, they ask to borrow your car for a trip to the grocery store. Does your insurance policy allow you to let them drive it?
Although you should check your individual policy, most of the time you can let someone drive your car and still have coverage. As long as you give the person permission, and they only drive the car occasionally, there shouldn't be an issue.
Accidents, however, are unpredictable and can happen anytime. Even a small accident can leave you and your friend with questions about whose insurance covers the damage. Find out what happens when you let a friend or family member borrow your car.
Who Is and Isn't Covered When Borrowing a Car?
Car insurance follows the vehicle, not the driver. When you allow a friend, family member or babysitter to borrow your vehicle, your insurance takes primary coverage. Even if the person borrowing your car has the best coverage available, your insurance covers your vehicle. The borrower's insurance could potentially provide backup coverage in certain situations.
Your car insurance is unlikely to provide coverage for drivers who use your car without permission or are excluded from your policy. If a friend takes your car and you didn't give them permission, your insurance probably won't cover them.
The driver and vehicle also aren't covered if the driver is excluded from your policy. Excluded drivers are usually family members or household members that you have specifically agreed to not include on your insurance policy. Oftentimes, excluded drivers are higherrisk drivers who are not covered on your policy to reduce insurance rates. Having a high-risk driver, such as someone with several accidents on their record, could increase your insurance premiums. Even if you give an excluded driver permission to drive your car, your insurance policy is unlikely to cover them because they are specifically left out of your policy coverage
What if There's an Accident When Someone Else Drives Your Car?
You give your friend permission to borrow your car and they are not an excluded driver. While out and about, your friend is involved in an accident with your vehicle. Another driver hit the side of your vehicle and caused damage and your friend was not at-fault. In this situation, the at-fault driver's insurance would be responsible for any damages to your car and any injuries to your friend.
In an accident where your friend is at-fault, however, your insurance would likely cover the damage to the other driver's car. Your liability coverage would probably pay for any injuries or damage to the other driver as well. Damages to your car would not be covered unless you have collision coverage. To repair damages using collision coverage, you'll probably need to pay your deductible even though you weren't driving at the time of the accident.
You might find out that your insurance coverage limits aren't high enough to cover the damages to the other driver's car or medical bills. Your friend's car insurance may have to be involved to cover the remaining costs. Many insurance policies would cover the remaining liability costs associated with the accident if your insurance limits aren't high enough. It's important to remember that each policy is different, and may have different guidelines for situations where a borrowed car was in an accident. Check with both your and your friend's insurance policies to be sure.
What Happens if the Driver Gets a Traffic Violation?
A friend who borrows your car and causes an accident may also have been given a ticket for a traffic violation. Speeding tickets and other traffic violations often make a driver a higher risk. This leads to increased insurance premiums.
Like at-fault accidents, traffic violations usually follow the driver. That means if your friend borrows your car and gets a speeding ticket, it's unlikely that your insurance rates would increase due to their ticket. Your friend's rates, however, may increase even though they weren't driving their own vehicle when they got the ticket.
Adding Drivers to Your Policy
An important factor to remember when letting a friend borrow a car is how often they borrow the vehicle. A friend who visits twice a year probably doesn't need to be added to your policy. However, if you have a babysitter who takes your children to soccer practice in your vehicle each week, you should notify your insurance company to ensure both you and your babysitter have proper protection.
Talk with your agent to learn more about who you may need to add as a named driver to your policy to keep you and your vehicle protected when someone else is behind the wheel.