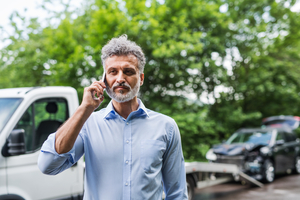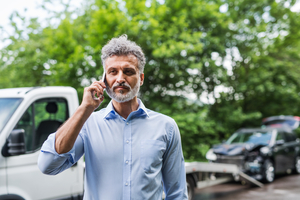 One of the unfortunate realities of driving is that you will likely experience an accident at some point in your life. Even the safest drivers can't predict what other drivers will do on the road. Be prepared in the event of an accident by knowing what steps to take and which insurance company to call before an accident occurs.
If you've been in an accident or just want to be prepared, check out these reasons why you probably want to call your own insurance company first, instead of depending on the other driver.
Reasons You Should Call Your Own Insurance Provider First
When you're in an accident, there's usually a lot of confusion. You may not even be sure who was at fault for causing the accident. However, you should never admit fault after an accident. Even if the other driver is clearly at fault, you will likely want to call your insurance company first.
You Don't Know If the Other Driver Will Call Their Insurance
The easiest way to make sure your car repairs are covered after being in an accident is to contact your own insurance provider to make a claim. If the other driver is at fault, they have an obligation to contact their insurance and put in a claim for your car repairs. This is covered under basic liability insurance that is legally required for cars on the road.
Though they are obligated to make the call, you can't know for if the other driver will or will not contact their insurance. If they choose not to, you may face even more hassles than the accident itself. It's best to take control of the situation yourself by contacting your insurance company.
Your Insurance Provider May Provide Extra Help
You probably have more confidence in your own insurance company than the unknown company of a stranger's. By contacting your insurance company first after an accident, your car may be able to be repaired faster. If you have collision coverage and file a claim, your insurance company will send you a check to cover the repairs, less your deductible, without waiting for fault to be determined. In addition, if you have rental expense coverage with your comprehensive or collision insurance, you'll have help paying for a rental car while your car is in the shop.
If it winds up that you are not at fault and have the insurance information for the other driver, your insurance company should work with the other insurance company to refund your deductible. Additionally, you can usually add extra coverages to your insurance policy, such as roadside assistance, that could help you in the chance that there's an accident. If you choose to include roadside assistance you can get help like a tow to the nearest repair shop. Please keep in mind that these additional coverages cannot be added after a loss has already occurred.
You Might Have to File a Claim Anyway
When the other driver is at fault for the accident and doesn't have insurance, you may have to call your insurance company and file a claim even though the other driver is at fault. Although insurance is required by state laws across the country, some drivers still choose to drive without insurance. Often times the drivers who take this risk are less likely to be willing or able to pay for your damages out of pocket.
The other driver may also only have the minimum required liability coverage for their state. This coverage limit may not be enough to cover your repair or medical expenses. This means that even though their insurance will pay for your repair or medical expenses from the accident, you may have leftover costs that you're required to pay. For example, if your car repair damage is $7,000 and the other driver's insurance covers up to $5,000, you still have to pay $2,000 of repair bills.
Reasons You Might Want to Wait to Call Your Insurance Company
The only reason to call the other insurance company first or to wait to call your insurance company is to avoid paying a deductible. Even if the other driver is determined to be at fault, getting a deductible refunded from the other insurance company can take months. There may not be a guarantee that you'll have your deductible refunded at all.
Paying your deductible for repairs that are not your fault, however, is a small price to pay compared to the hassles and costs of not calling your insurance company first. Waiting to call or relying on the other driver to call their insurance company can lead to a delay in having your car repaired and can leave you without a safe car to drive while you wait for payment.
Tips for the Aftermath of an Accident
After you're involved in a car accident, you'll likely feel scared or in shock. These heightened emotions can lead to a difficult situation of drivers saying things they shouldn't or starting an argument. The most important thing to remember after being in an accident is to stay calm and never admit fault. If the accident is significant, involving injuries, blocking traffic, or if you feel threatened, call the police so that they can examine the situation. They'll be able to help you collect the other driver's information and may be able to talk to your insurance company about the accident.
Being Prepared for an Accident Before It Happens
The best way to deal with an auto accident is to be prepared when it happens. It might help to put a checklist in your glove box of things you should and shouldn't do after an accident. Be sure you know what is and isn't covered by your car insurance.
Get in touch with your Wawanesa agent today to go over your policy limitations, exclusions and covered expenses so you're prepared in case of an accident.