We have redesigned our policy documents to ensure they are easier to read and understand.
All of our policyholders will be receiving packages with the updated documents. These will replace any previous policy documents you may have received from Wawanesa Insurance.
Your renewal package may include:
Let's walk through your new documents.
---
Document Headers
Your Statement of Account (also known as your Billing Document), Cover Letter and Policy Declaration will all include a header similar to the one pictured below.


Your Policy Number for the stated policy. Please note that your Policy Number has changed. If you have multiple policies (i.e. homeowners and automobile), this will vary for each product.

Your Wawanesa Insurance policies are grouped under this Account Number. Your new account number can be used to pay your bill online.

The Policy Period states the effective date and expiry date of the policy term.

Depending on the document, the Notice Date or Effective Date will be stated in the top right corner.
---
Insurance Wordings
Your Insurance Wordings explain the insuring agreement, coverage conditions and exclusions your policy entails, as well as defines important policy terminology. Please take time to review this section as it includes other important information regarding your policy.

The document title states the type of coverage to which this document pertains.

The form number is an important indicator as to which version of the Insurance Wording applies to your policy.
---
Proof of Insurance/Roadside Assistance Cards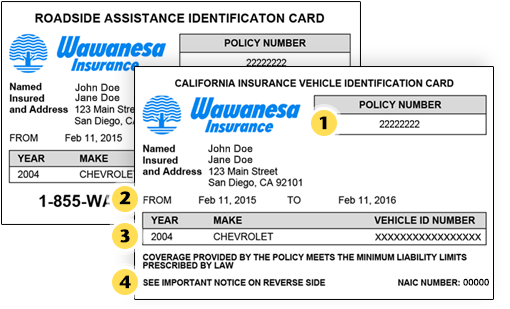 Your automobile Policy Number appears in the upper right corner of both your Proof of Insurance and Roadside Assistance cards.

Shows the effective date and expiry date of your liability coverage or Roadside Assistance coverage for the vehicle described on the card.

You will receive separate cards for each vehicle you insure. This states to which vehicle this card applies.

The reverse side contains important information in the event your vehicle is disabled or if you're in an accident.
---
Have questions or feedback regarding your new policy documents? Please send your comments through our feedback page.