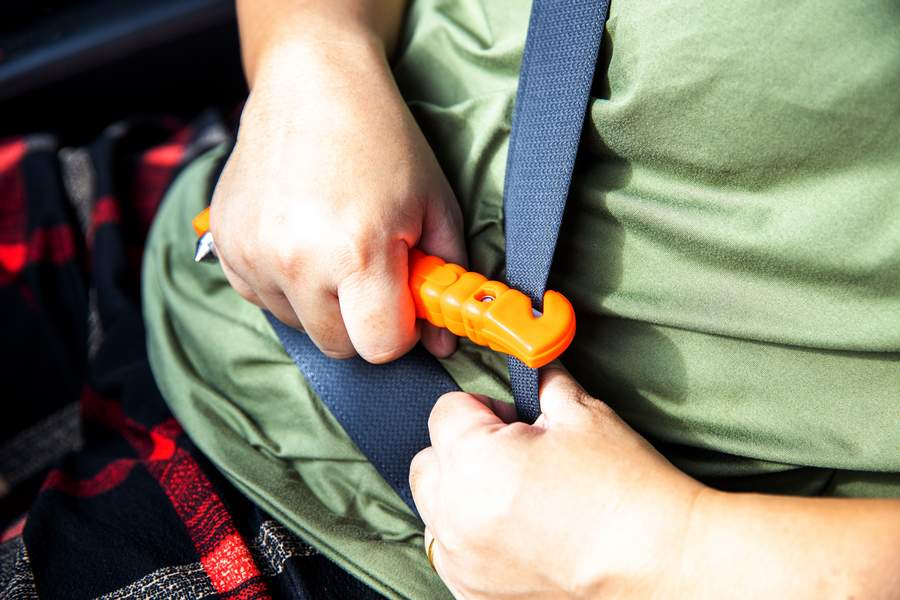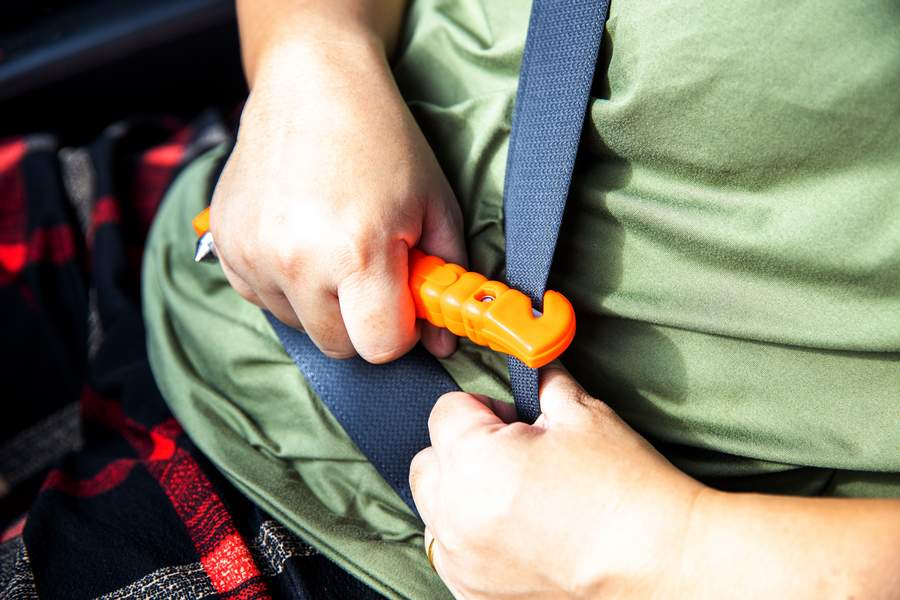 Whether you're commuting to work or taking a long road trip, cars provide a freedom and independence we cherish. We rely on them for running errands, driving to work and going on epic road trips. We pile the kids in the car for ice cream. We take solo drives along the coast with the windows down and the music up.
But sometimes, things can go wrong. With these 16 things to keep in your car, you can prevent problems from becoming disasters. Of course, if you routinely travel with dogs or small children, you'll want to add to this list. But these are the basic items everyone should carry in their emergency kit for the car.
Auto Care Items for Your Car Emergency Kit
Seatbelt Cutter and Window Hammer
The seat belt cutter does exactly what its name suggests. If your seat belt buckle gets jammed in an accident, it will quickly and easily slash through your seat belt. If your vehicle is on fire or sinking, the last thing you want to struggle with is a seat belt that won't come undone.
A window hammer could be very useful if your vehicle ends up in a ditch and out of sight. It could also come in handy in an unlikely situation where you're trapped inside your car while it's sinking and battling outside water pressure. Depending on the model you choose, these emergency tools may have other functions you can use more frequently. There are some window hammers that function as USB chargers, hand-crank power banks, sirens, and flashlights.
Jumper Cables
Always carry a set of jumper cables in your car. Even with all the warning lights and buzzers, the lights can get left on, draining the battery. If your car or another motorist's vehicle has a dead battery, jumper cables will get you back on the road again quickly. Brush up on how to jump-start a vehicle before you go on any long distance trips.
Spare Tire, Jack, and Lug Wrench
Even when your tire maintenance is perfect, you can still encounter hazards on the road. Don't let a punctured tire leave you stranded on the side of the road. Among the most important things to keep in the car are a:
Properly inflated spare tire.
Tire jack.
Lug wrench to remove and replace the lug nuts on your wheels.
Flashlight and Extra Batteries
Stash a powerful flashlight in your car emergency kit. No, the app on your cell phone won't do. If you encounter engine trouble at night, you want to be able to set the flashlight on the engine without worrying that your cell phone might fall through the engine to the ground and break.
Flares and/or Emergency Triangles
If you get stuck on the side of the road, you want your fellow motorists to see you clearly to prevent an accident. Try to avoid stopping in the middle of a curve or immediately following a bend in the road. Then, set flares and roadside triangles behind your car so others can see that you need help.
Tool Kit or Multi-Tool Device
If necessary, you can do several simple things to fix your car on the side of the road. But most will require some basic tools. Ensure your car emergency kit includes both flat and Phillips head screwdrivers, vise grips, an adjustable wrench, and a utility knife. Or save some room and pick up a Leatherman multi-tool device.
WD-40
Even when you have the right tool for the job, all too often, the critical bolt or nut may be rusted, gummed up, or simply stuck. A lubricant like WD-40 will get the screws turning freely. It's also useful in a number of other ways. You can use it to keep your car grill free from smashed bugs, prevent snow and ice build-up on windows, and clean stains from upholstery and carpet. No emergency kit for the car is complete without it.
Car Fire Extinguisher (ABC Type)
You hope to never use it, of course. But a fire extinguisher is one of the most important things to always keep in your car.
License, Insurance, and Registration
Perhaps these three items should top the list of things to always keep in your car. If you're ever stopped by police, they will require current documentation of your driver's license, car registration, and proof of auto insurance. When your updated insurance card or registration tag comes in the mail, be sure to update your car emergency kit.
Roadside Assistance
Roadside Assistance will be the most valuable thing you carry in your car emergency kit if you find yourself stranded on the side of the road. Wawanesa members can add roadside assistance services for about $10 per year. Coverage includes:
Emergency towing
Flat tire change
Battery jump start
Fuel delivery
Winching service
Vehicle lockout/locksmith services
Driver Care Items for Your Car Emergency Kit
Thus far, we've considered only auto care things to keep in your car. But if you get stuck, you'll want the following items to see to your comfort and that of your passengers.
Drinking Water
A gallon of drinking water is essential to your car emergency kit. Replace the water periodically so it remains fresh.
Non-Perishable Snacks
If you get stuck for hours at the side of the road, you'll be grateful for non-perishable snacks like energy bars, gummies, or trail mix. Replace them when you replace the water, to keep them fresh.
Charger or Power Bank
One of the things to keep in your car that could be a lifesaver is a cell phone charger. Drawing very little power from the car battery, they can ensure you're never stranded without the ability to call for help. Or go one step further and make a power bank a part of your arsenal.
Two-Way Radio
Go on lots of adventures? Maybe you're planning to visit a remote camping spot or hitting up a national park? Perhaps once you arrive at your destination you find out you don't have cell service. A two-way radio can be a great way to stay in touch with your party if you need to split up. To be fully prepared you may want to consider a two-way radio to the emergency kit for the car.
First Aid Kit
A simple first aid kit with Band-Aids of various sizes, gauze, antibacterial ointment, and antiseptic wipes may come in handy in emergency situations and everyday life. Not just for yourself and passengers, but when other drivers get stranded, it's helpful to be able to share the contents of your car emergency kit.
Seasonal Supplies
Be sure to add appropriate seasonal supplies to your emergency car kit. Stock a blanket, ice scraper, gloves, snow chains, raincoat, and boots as needed to meet the challenges of your climate. Live somewhere hot? Having a portable fan, sunblock, and a hat will protect you from the heat if your not able to run your vehicles air conditioning.
Whether you're driving for business, family, or fun, a well-stocked emergency car kit can prevent mishaps from becoming disasters. Additional peace of mind comes with having the right amount of auto insurance coverage. Contact a Wawanesa agent to review your policy so you're well protected the next time you hit the open road.