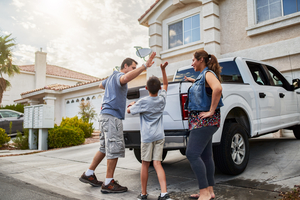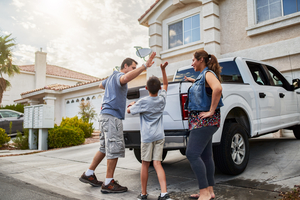 Planning a big family vacation road trip or getting ready for a long-distance move? Long car rides increase your risk of being in an accident. The more time you spend on the road, especially several hours at a time, the more chances hazards of the road can appear.
We asked experts for their top safety tips and tricks to make long drives safer. Stay safe on your next long-distance road trip with these tips.
1. Plan Ahead
The best thing you can do to increase safety on your trip is to plan ahead. Most long-distance trips are scheduled well in advance. This gives you plenty of time to plan your trip. Start by picking the route you plan to take. Make sure you choose a few alternative routes as well, in case road construction or an accident block your main route. Many smartphone apps allow you to save routes on your phone for easy access. You should also draw your route on a detailed map or atlas.
When planning your route, look for natural stopping points. Pick a few options for a stopping place for each day of your trip and look up lodging, fuel and food in those areas. By choosing multiple stopping point options, you can adjust each day of your trip to how you feel. If one day you're extremely tired, you can stop at your first marked spot so you're not trying to reach a destination that's several hours away.
2. Pack More than the Essentials
It's important to have a tire changing kit, spare tire and tool kit in your vehicle on any trip. Longer trips, however, require more than just the basic car care essentials. Robert Siciliano, a security expert, recommends packing for unexpected weather and car breakdowns. Sunscreen, sunglasses and a wide-brimmed hat can help keep you safe from harsh sunlight if you're stuck along the road. For cold-weather travel, Siciliano recommends thermal underwear, snow boots and air-activated hand or foot warmers.
If you experience a breakdown, Siciliano says, you should be prepared with an auto emergency kit. Include in your kit first aid supplies, jumper cables, tire inflator, duct tape and road flares. You should also consider packing flashlights, batteries and headlamps in case you need to change a tire or fix your car at night.
Adding roadside assistance to your car insurance policy can also help you if your car breaks down on your trip. Roadside assistance can help tow your car to the nearest shop, deliver fuel or jumpstart your battery.
3. Check Your Car Before You Go
One of the biggest mistakes you can make on a long drive is to not prepare your vehicle for the trip. The last thing you want when out on the road is a mechanical failure that could have been avoided.
John Burkhauser, of Bolt On Technology, recommends heading to a repair shop for routine maintenance and a tune-up before you start driving. Take your car to a trusted mechanic about a week before your trip. This gives your mechanic time to look at your vehicle and make any necessary repairs before you leave.
Make sure your car is up to date on oil changes, tire rotation and have the fluids topped off before leaving the shop.
4. Stay Alert on the Road
The temptation to look at your cell phone or other distractions as you drive only gets worse the longer you're on the road. The more you drive, the easier it is to lose focus and let your mind wander. The dullness of a long stretch of highway may lull you into a false sense of security.
This is one of the worst times to get distracted by your phone or any other distractions. After spending so much time on the road, your mind is already less alert than when you begin driving. When you add your phone into the equation, it greatly increases your chances of causing an accident.
Each time you're tempted to look at your phone or find your mind wandering from the road, pull over and take a break.
If stopping isn't an option, such as on a long, windy mountain pass, roll the windows down and let in some fresh air. Even with air conditioning, your car's cabin can get stuffy and lead to drowsiness or distracted driving. The fresh air helps make you more alert as you drive.
Chewing gum can also help you stay more alert at the wheel. The motion of constantly chewing the gum helps give you something to keep you awake. The simple motion, however, doesn't require a lot of effort or thought, so you can keep your mind on the road.
5. Stop and Stretch Every Couple of Hours
Burkhauser's biggest piece of advice for drivers on a long drive is to stop regularly and stretch. It's easy to push yourself to keep driving. This leads to more distractions and drowsy driving. Stop every couple of hours to keep yourself refreshed and comfortable during your drive.
The second reason to stop and take a break is a chance to look at your car. Each time you fill up on fuel or stop for a restroom break, take a walk around your vehicle. Pay special attention to your tires. As Buckhauser mentions, finding a piece of road debris or nail in your tire sooner rather than later gives you a chance to drive to a tire shop. You can get your tire fixed before the damage causes a blowout on the highway.