Find Your Opportunity
Stability and growth in a respectful, challenging and rewarding environment
View Our Job Board
Accommodations are available as needed for all applicants
Respectful. Challenging. Rewarding.
First established in the village of Wawanesa, Manitoba, we have grown to be one of the largest property and casualty insurers in the industry, with offices located in Canada and California.

Wawanesa Insurance is a policyholder-owned company that offers great stability for employees and plenty of opportunity for growth. Most importantly, we provide an environment that is respectful, challenging and rewarding.
Working @ Wawanesa
Wawanesa is a strong and innovative policyholder owned mutual insurance company that values our employees for who they are, in addition to the work that they do. We trust and motivate our people to do the right thing, fostering an empowered spirit throughout the organization. If you are looking to develop your career in any of the areas below, consider Wawanesa Insurance. We'd like to hear from you!

Discipline Specializations: Accounting, Actuary, Claims/Underwriting, Finance, Human Resources, Information Technology, Insurance Products/Product Development, Legal, Marketing
Our Community
We are proud to support the communities where our employees live and work. Our charitable efforts help shape who we are as a company and we stand behind charities and programs that offer broad community benefit and enjoy wide community support. With the "My Community" day benefit, we give our employees the opportunity to make a positive difference in a way that is meaningful to them. On a day accommodated by Wawanesa, they can donate their time, talent and energy for a cause important to them.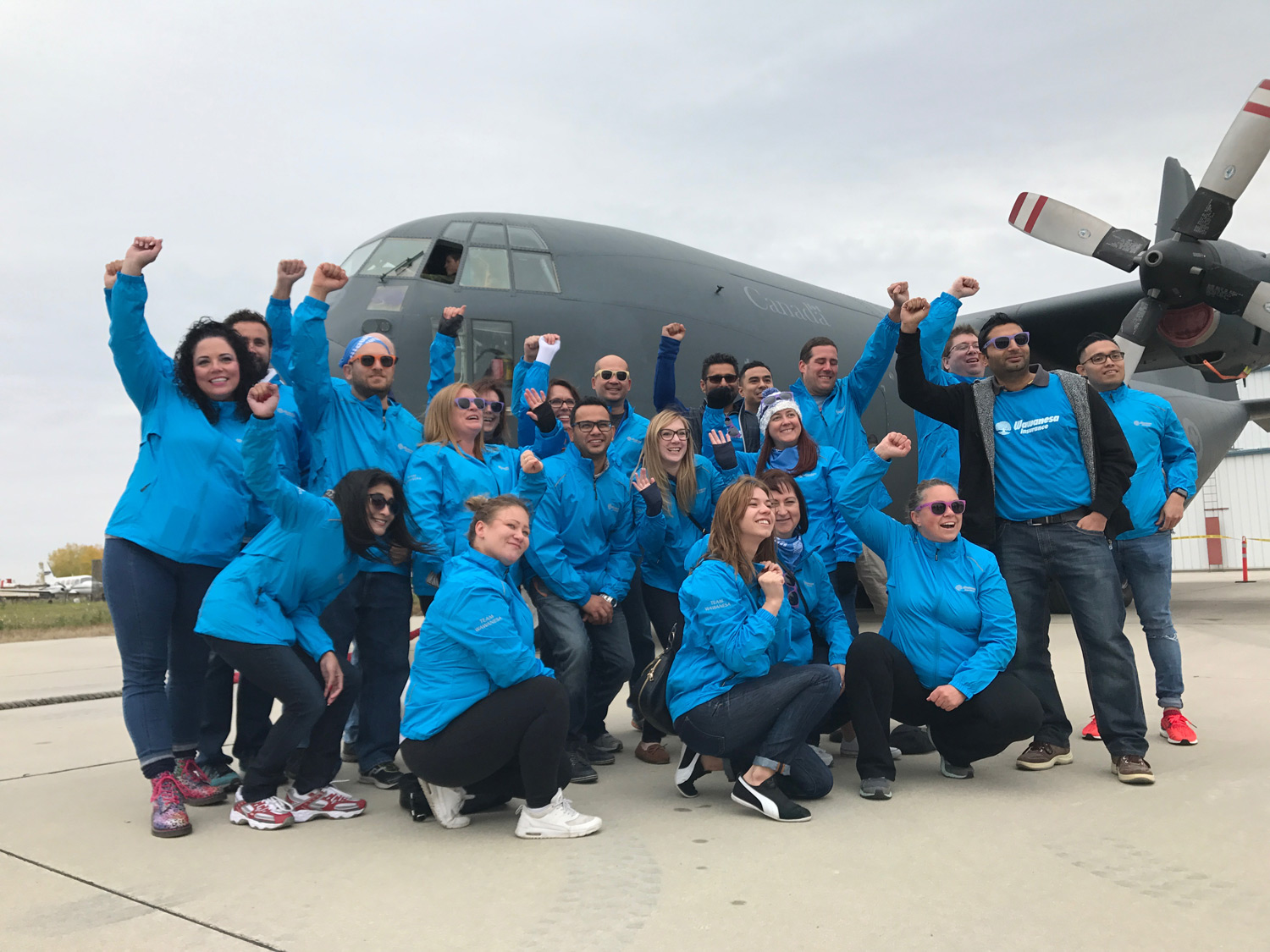 Total Rewards
Our employees are our most important asset and we want to ensure they are happy, engaged, and are part of a culture that enables them to bring their best selves to work, and grow and develop in their careers. Our total rewards offering starts with competitive compensation and a comprehensive benefits package, and is rounded out by programs that range from pension plan / 401K, to a progressive dress code, to an industry leading paid time off and vacation program.

Our highly competitive compensation package includes: Competitive salaries, Annual Bonus plan, Education assistance, Personal days, Disability plans, Premium-free dental and extended health benefits, pension plan, Life Insurance, Generous vacation allowance.
We have opportunities in:
Administrative
Claims
Customer Service
Finance / Accounting
Information Services
Operations
Sales
Underwriting
Employee Testimonials
Roz Kassam, CIP
"As I reflect on what the 15-year journey has been for me, it seems an appropriate time to express my gratitude to the best team anyone could ask for. I would like to take this opportunity to thank everyone, who has directly or indirectly been a part of my Wawanesa journey so far. I am grateful for my work family: a strong and kind group of people who work in harmony; and younger members who never cease to amaze me with their quick wit and compassionate ways. When I walk in through the door every morning, in my heart, I know that I am in a safe place (home) where trust, respect, and dignity reside. I am also grateful for the trust that Wawanesa has placed in me to make decisions on behalf of the company, making the resources and tools available, and also enabling personal and professional growth in a supportive environment. I understand that I am entrusted with the responsibility to invest on behalf of the company, and that to me is a badge of pride."
Justin Pursaga
"Over the last 10+ years that I've been with the company, I've never been in a role for longer than 2 years. The opportunity to move around and build experience has been phenomenal for my career. I also have a deep appreciation for the amount of support that I received from my colleagues and Wawanesa when my wife and I welcomed our Son into our family. After two baby showers, countless emails, hugs, high fives, and endless smiles (oh and not to mention the generous parental top-up benefit!), it has become so clear to me, that my career is more than just a job, Wawanesa is an extension of my family."